Services
Are you F-Gas compliant?
If you have refrigeration or air conditioning, here's what you need to know.

Refrigeration, Air Conditioning, Sales, Service, Maintenance, Installation
We are based in Wrotham Heath, Kent which gives us ideal access to the motorway network. Our area of service currently spans Kent, London, Essex, Sussex, Surrey, and surrounding areas. We specialise in industrial/ commercial refrigeration and air conditioning.

Cold Rooms;
If you need a new cold room designed and installed, what ever your requirements, we offer a free on site consultation and quotation process.
We will then arrange delivery, construct and refrigerate to your specification. Keeping your cold room running, and running efficiently, is critical for all businesses that use them. We are also able to repair and maintain your existing cold rooms.
This can include door furnishings (handle systems, hinges and kick plates), door gasket sets, freezer door frames, blade heaters, transformers. Other repairs are threshold heating, underfloor heating and transformers, heated pressure relief units, cold room lighting and temperature monitoring systems.

Chillers;
If your chiller is not working as it should or becoming more expensive to repair due to its age, we can help.
Using our years of experience, we are able to advise on whether it is economical to repair and maintain or if it has now become more cost effective to replace.
We offer a full range of services to a range of chiller products including commercial grade cabinets, serve overs and small walk in cold rooms to larger industrial warehouse chiller cold rooms. If you require a brand new chiller, we can design and install it based on your needs.

Freezers;
Commercial and industrial freezers are essential for many companies to keep up and running at all times, which is why we understand a break down can be devasting. Diagnosing faults and repairing the issues on these freezers is our top priority to keep your business running smoothly.
We can also assess your requirements and design a new, full freezer solution plus install this for you – covering everything in one place. We offer a full range of services to a multitude of products from commercial grade cabinets, small walk in cold rooms to larger industrial holding freezers.

Ice Machines;
We offer a full range of services from small commercial grade ice cubers and flakers to larger industrial flaking machines.
From design and installation to maintenance and repair, we have the expertise to ensure you are back up and running as quickly as possible. Ensuring the right solution is installed for your needs, using the best equipment is vital to getting the most for your money, which is always something we prioritise for longevity. Properly repairing and maintaining your ice machine saves time and money in the long term.

Cellar Cooling;
Here at Tech Refrigeration Services Ltd, we provide a variety of cellar cooling systems – from the full design and installation to the maintenance and repair.
We use equipment from leading manufacturers and will provide the service based on your requirements. With our hugely qualified team and fantastic track record, our main objective is to deliver your project to the highest of standard and with an excellent services.

Air conditioning;
Air conditioning is becoming essential in most commercial and industrial buildings as well as more common in residential properties. With extreme temperatures, both hot and cold, maintaining a comfortable temperature whilst being cost effective is a priority.
We offer a free, no obligation consultation and quotation process to discuss your needs. If you already have existing equipment, we can offer a maintenance plan to keep your air conditioning working correctly and efficiently.

SALES
Please get in touch with us to discuss your requirements, we offer non obligatory advice and guidance to support our customers.

INSTALLATION
Speak to us today to discuss your installation requirements whether its moving or installing existing equipment on site, to consulting with you on a new system and carrying through to installing and handing over to our client.

SERVICE
We provide a comprehensive service facility to our existing customers, including 24hr call out assistance where an out of hours emergency occurs. Our operation allows for response to those matters of higher priority as and when they are reported to us. We aim to attend to our customers problems on the day but this is subject to other variables which may require a next day visit.

DISPLAY AND SERVE OVER REFRIGERATION
We can offer free advice on brand information, reliability and general performance on a range of products.
We are able to carry out fault finding, spares supply and maintenance to these products, however, typically we don't supply these products as we can't compete with internet prices and believe that the best value for money is to purchase direct from the seller and take advantage of their warranty packages.

MAINTENANCE
Using our experience we are able to guide you on a tailored maintenance agreement that meets the demands of your equipment and the environment within which they operate. Maintenance agreements can be tailored to suit 1 pre summer inspection to 2 or 3 visits per 12 month period if required. All maintenance visits will be accompanied by our service reporting sheets and asset registering to facilitate ease of identification and reporting going forwards. We can also carry out probe calibration inspections and reporting for our customers who may require this certification for auditing requirements within the food industry or simply for peace of mind that your systems are working effectively and efficiently. Along with our probe report, you will also be provided with the calibration certificate of the device we use to verify the operation of your sensors.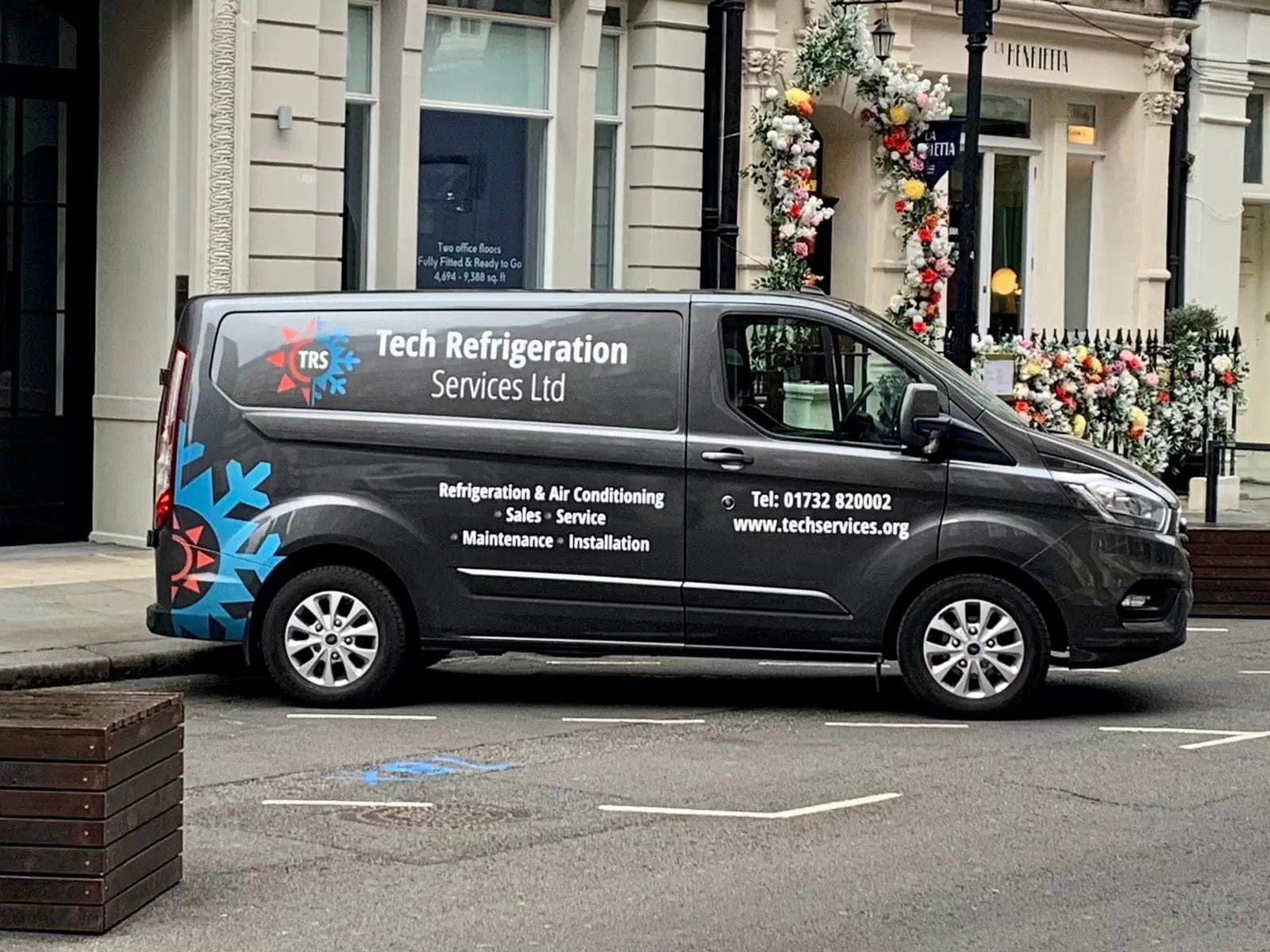 I've been working with Tech Refrigeration Services for the past 6 years but their support for our business spans 8 years. They have been with us from our humble beginnings in a small factory in Swanley through to our £1.4 million rebuild at our new site; the team have even worked overnight on occasion to facilitate machine moves. Dave and Nick are always happy to advise over the phone and have a common sense approach to fixing issues. We always feel like we're given the best advice without overspending on engineer time or unnecessary parts. Their response time is quick with engineers onsite within 24 hours; Dave has been with us within the hour in the past, saving us thousands on lost gas. Honest, reliable, decent contractors. I highly recommend them
Phil Cheeseman - PMJ Foods
Our business has been supported by Tech Refrigeration Services for a number of years now. They have always gone above and beyond to reduce our operational downtime to a minimum and delivered a good level of service throughout
Julian Pickles - Henson Foods Ltd
As a long standing customer of Tech Refrigeration services, almost 20 years, I can thoroughly recommend them. We have utilised all their services from our regular servicing to new refrigeration equipment installations. We have always found them to be excellent at their call outs, their engineers mostly arriving after a couple of hours or the same day"
Roy Arment - Arments Pie and Mash, London